Welcome to the most casual of casual games– a computer simulation of those old marble labyrinth games you might have played as a child. I loved these, though I never had the privilege of owning one.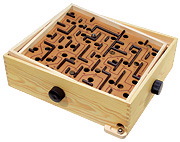 3D Marble Flip comes to us from Webfoot, the same group behind the eGames-published Safari Kongo. To its credit, this game, unlike that one, actually runs. So that's one good thing I can say about it. It might be the only positive thing I have to say about the game.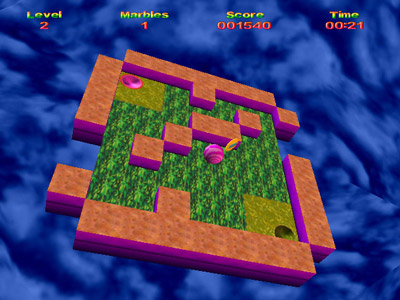 I really wanted to like this game, since I liked those old labyrinth games so much. This title had potential but was seriously hampered by a rather key feature– physics. The gameplay is such that the player uses the cursor keys to tilt the game board in any direction. But as soon as the keys are released, the board immediately bounces back to a perfectly level orientation and the marble stops rolling. It somewhat ruins the concept. The gameplay feels like the marble is covered is something very sticky.
The goal of each maze is to pick up all the coins in the maze and then roll to a little pink pit. Avoid falling into the void, if possible. Thing is, it's incredibly frustrating to actually get into the pit. The game seems to want you to be perfectly centered in the pit. As mentioned, the marble is incredibly sticky and you will have to keep maneuvering the board to get the marble off the walls of the pit as you combat that nagging feeling that the level should be over already.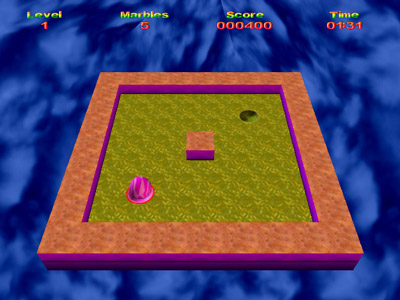 An incredibly unusual item about this game — perhaps a first for all the games in the experiment, certainly of the casual gaming genre — is that the game has an AutoUpdater program. Just to make sure that this incredibly simple game is up to date. This game has a 2002 copyright date, yet the server still seems to be up and responding:

Checking for new version of AutoUpdate...
No new version of AutoUpdate found.
Checking for new version of 3D Marble Flip...
No new version of 3D Marble Flip found.
Update complete.

See Also:
At MobyGames