Aside from a disproportionate number of educational titles, this blog has also covered an inordinate quantity of what I have recently learned is called a casual game. The casual game is a quick, throwaway diversion, one that does not require a whole lot of time or thought to understand and can be counted on for at least a half hour of occasional entertainment. The casual game model fits this blog well.
Here's one recipe for a casual game: Take a classic home board game, transpose it to video game form (whether or not it makes sense to do so), spice it up with some 3D graphics and add some catchy tunes. Such is the case with 3D Armada. It was a little exciting to pop this disc in since I had no idea what to expect. One glance at the hexalingual manual clued me in that this just might be a video game adaptation of the classic Battleship theme. This turned out to be the correct guess.
How would a Battleship clone operate as a video game? Something like this: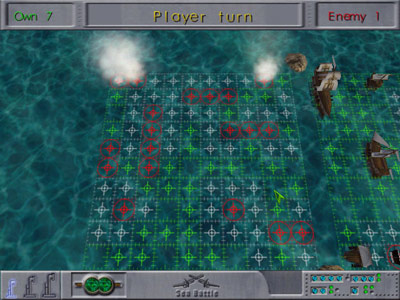 It requires more suspension of disbelief than normal when there are 2 10-ship fleets sitting next to each other in the water, effectively blindfolded as to the other's precise nautical location. Although this game finally made me question just how much the original home game's battles were rooted in naval reality.
I'm pleased to report that playing this game is actually a lot more efficient (or at least less tedious) than playing an actual game of Battleship. Since the computer automatically takes care of calling the shots and managing what has been sunk (complete with nifty BOOM effects), the Armada games go much faster and allow me to get the most out of the 1/2 hour of casual gaming time that I have budgeted for a game like this.
I would be remiss if I did not mention the throbbing, Euro-techno soundtrack (courtesy of the game's Dutch developer), quite reminiscent of the Amiga tracker heyday. A wholly inappropriate soundtrack for epic naval battles, but sentimental for MOD music aficionados, such as myself.