For at least the past 5 years, I have been seeing kiosk vendors in malls selling special video game systems. These items boast many games hardwired into devices which are just controllers with a few A/V cables for plugging directly into a television. You know the places — kiosks staffed by shady-looking, shifty-eyed characters who greet you with the customary, "You're not a cop, right? Because you have to tell me if you are or else it's entrapment." It's obvious to any video game geek that these systems are just some 8-bit NES emulation mechanism attached to a store of illicit NES ROMs, all packed inside the controller.
Really, it's a nifty idea, just not altogether on the up-and-up. Creating and selling hardware that duplicates NES functionality is okay since the NES patents expired years ago. But the copyrights on the ROMs are in no way expired.
I was surprised to see one of these devices in a significantly more mainstream retail outlet– a Walgreens store, specifically. It was only $9.99 and claimed 101 games.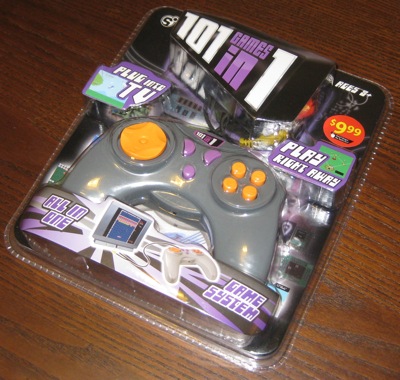 The most vivid screenshot on the package was quite obviously Arkanoid. When I turned on the unit (which requires unscrewing the battery cover to insert the batteries-not-included), I was greeted by Pac-Man: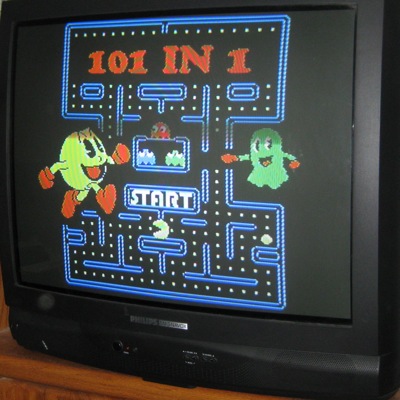 I gave it a whirl. There are, in fact, 101 individual games (unlike that 1997-in-1 fraud I wrote about once) which I have listed at the end of this entry for reference. As an expert in American NES games, I know that most of them are games that were never released in America. Almost all of them are incredibly simple, obviously mapper-less games (memory mappers were used in NES cartridges to effectively expand the amount of data a game could have; lack of a mapper limits the possible size and complexity of a game). The most complex game I saw in the menu was Super C which used Nintendo's MMC3 mapper hardware. Then again, the game had been stripped of its title screen and I didn't play past the first level; it's entirely possible that someone whittled this down to be an abbreviated, mapper-less version of the original game. I'm fairly confident that none of these games use battery backup features, thus obviating the need to emulate any non-volatile RAM.
As for actual gameplay, the experience is a bit disappointing. The joypad is very stiff. There are 4 buttons on the right side of the controller, but they're actually just 2 A buttons and 2 B buttons. The select and start buttons sit just above the reset button which goes back to the Pac-Man greeting screen and that's not a very user friendly feature. I was just getting into Super C when I noticed that particular problem.
Overall, this is probably as much of a letdown as that 1997-in-1 device. This device was cheaper, sure. But this device also required a little more time to notice how bad it is.
See Also:
At MobyGames:
Here's the full list of 101 games:
1942
10 Yard Fight
Alpha Mission
Antarctic Adventure
Arabian
Arkanoid
Army Tank
Balloonfight
Baltron
Baseball
Binaryland
Bird Week
Mighty Bomb Jack
Bomb
Bomber Man I
Bomber Man II
Brushroller
Burgertime
B-Wings
Casino
Chacknpop
Challenger
Champion
Chess
Chinese Circus
Circus
Cityconnection
Cluclu Land
Field Combat
Super Contra
Devil World
Dig Dug I
Dig Dug II
Spar
Dongkey Kong 1 [sic]
Dongkey Kong 2 [sic]
Dongkey Kong 3 [sic]
Door Door
Lunar Pool
Dough Boy
Dragon Fire
Elevator
Excite Bike
Exed Exes
F1 Race
Mach Rider
Joust
Tenms
Flappy
Kvou
Soccer
Formation 2
Front Line
Geimos
Golf
Gyrodine
Hyper Olympic
Ice Climber
Ice Hockey
Volley Ball
Zippy Race
Karaki
Karateka
Kung Fu
Lode Runner I
Lode Runner II
Bokosuka Quest III
Super Dynamix
Volguard II
Valkyrie
Magmax
Nibbles
Magic Mathematics
Throw
Mappy
Mario Bros
Matching
Exerion
Nuts Milk
Millipede
Twin Bee
Ninja 3
Ninja Guider
Othello
Russian Bricks
Pac Land
Pacman
Pinball
Pooyan
Porter
Mouse Wrestling
Pro Wrestling
Roadfighter
Shooting
Wars
Sky Destroyer
Slalom
Warpman
Space Shooting
Sqoon
Star Force