I just picked up this piece of light reading before the holiday break: 1001 Video Games You Must Play Before You Die. It's quite thick: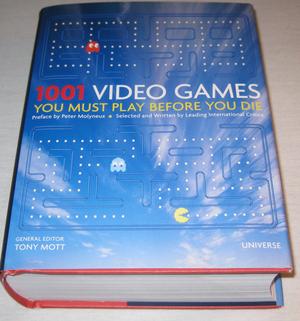 Close to the origin of this blog, I learned of various efforts by dedicated (or bored) individuals to slog through all chapters in assorted long-running game franchises. These efforts included Dragon Quest series (blog is gone); Zelda series (he didn't seem to get too far); and Ultima (hats off! this person made it through the series). Now I'm waiting to see if a new blog crops up to chronicle an effort to play through all 1001 of these games. I promise it won't be this blog.
The games are listed chronologically, though there is an alphabetical index. Through this index, I was able to determine that I have played a paltry 12% of the video games I need to play before I die. That doesn't seem like much, but it's still 120 games. It's important when reading through this book — as it is with any random "Top X of something" list — to not assign too much cosmic significance to the data, and certainly not to construe the contents as an affront to your own personal tastes. That means you'll stay sane if you can keep yourself from constantly wondering "How could they have not included [my all-time favorite game in some genre]!!"
The list was compiled based on the opinions of a bunch of game critics. A number of franchises are well-represented, among them: Every Halo game, most Final Fantasy games, most Zelda games, every Metal Gear Solid game; every Resident Evil game except for #3, and most every game that has ever begun with the words "Super Mario".
It's also curious to note that the preface of the book is written by famed game designer Peter Molyneux. I mention this because, cross referencing with his MobyGames rap sheet, it seems that most of his games made the list.
For my own reference, here are the 12% of these very important 1001 games I have had the privilege of experiencing:
1943
ActRaiser
Adventure
Arkanoid
Battle Zone
Bayonetta
Beyond Good and Evil
Bionic Commando Rearmed
BioShock
Boy and his Blob, A
Breakout
Castlevania: Symphony of the Night
Centipede
Choplifter
Combat
Commando
Critter Crunch
Cyber Troopers Virtual-On
Defender
Descent
Dig, The
Dig Dug
Donkey Kong
Doom
Doom 3
Double Dragon
Dr. Mario
Dragon Quest
Eternal Darkness
Far Cry
Final Fantasy IV (assuming they're referring to FF2 for SNES)
Final Fantasy VI (assuming they're referring to FF3 for SNES)
Final Fight
Frogger
F-Zero GX
Galaga
Galaxian
Gauntlet
Gears of War
Ghosts 'n Goblins
Ghouls 'n Ghosts
God of War
God of War II
Gradius
Halo 3
Heavy Rain
House of the Dead 2, The
Kid Icarus
Killer Instinct
Legend of Zelda
Legend of Zelda: A Link to the Past
Legend of Zelda: Link's Awakening
Legend of Zelda: The Wind Waker
Lemmings
LittleBigPlanet
Lunar Lander
Maniac Mansion
Marble Madness
Mario Kart Wii
MechWarrior 2: 31st Century Combat

Metal Gear Solid
Metroid Prime
Minesweeper
Moon Patrol
Mortal Kombat
Ms Pac-Man
Myst
Nights Into Dreams
Ninja Gaiden
OutRun
Pac-Man
Paperboy
Peggle
Pilotwings
Planetfall
Plants vs. Zombies
Pong
Populous
Powermonger
Prince of Persia
Punch-Out!!
Q*Bert
Rampart
Resident Evil
Resident Evil 2
Resident Evil 4
Resident Evil: Code Veronica
Robotron 2084
Shenmue
Sims 2, The
Smash TV
Solomon's Key
Sonic Adventure
Sonic the Hedgehod
Soul Calibur II
Space Invaders
Splatterhouse
Spy Hunter
Star Wars
Star Wars: TIE Fighter
Street Fighter IV
Strider
Super Castlevania IV
Super Mario 64
Super Mario Bros.
Super Mario Bros. 2
Super Mario Bros. 3
Super Mario World
Super Metroid
Super Smash Bros. Melee
Tempest
Tetris
Time Crisis
Uncharted: Drake's Fortune
Uncharted 2: Among Thieves
Unreal Tournament 2004
Virtua Cop 2
Virtua Fighter
Virtua Racing
Zork 1